Puerto Escondido In The News:
SFGate & Surfer 100 Best Waves in the World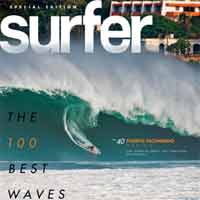 Countdown to the Show!
Check your local listings to see us on HGTV on Saturday, March 31, 2012 6:30pm EST:
Click Below to 'Like Us' on Facebook!
US State Department Advisory:
Safe to travel in Puerto Escondido, Oaxaca and Huatulco
---
10 reasons to pack your bags for
Puerto Escondido
San Francisco Chronicle - SFGate
by Christine Delsol
Published on July 12, 2011
Mention "Oaxaca," and most travelers think of the justly famous capital city, but the state's unspoiled beaches and famous surf breaks are equally worthy of your attention.
1. Beauty, 2. Balance, 3. Affordability, 4. Mexican-ness, 5. Surf Culture, 6. Adventure, 7..8..9..Safety..10..

Click to read "10 reasons to pack your bags for Puerto Escondido"
Click for "HGTV House Hunters International Show Information"